National Case Management Week

OFFICIAL ANNOUNCEMENT:
CMSA, CCMC and ACMA are uniting for National Case Management Week, Oct. 8-14, to raise awareness about the vital role of case managers. As One Voice, we shine a spotlight on the value of case management, aligning behind the theme 'Keeping the Person at the Heart of Collaborative Care.' Join us in our collaborative efforts!
Read the full press release HERE!
Start celebrating with the gear, guide & graphics below

! Let's shout it from the rooftops — Case Managers Rock!!
From Tees to Tumblers, get geared up for #CMWeek2023, including our exclusive "Case Managers Rock!" designs!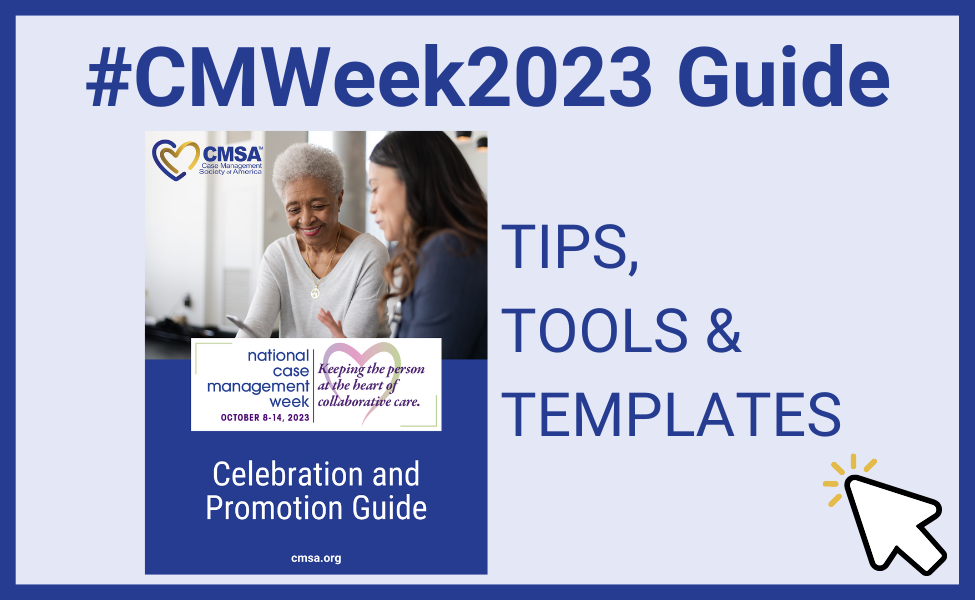 Our #CMWeek2023 Celebration & Promotion Guide is here to help individuals, employers, and chapters honor case managers!
CMSA Case Management Week Events (and Bonus October Events) are FREE and open to ALL — members and non-members.
Prizes will be awarded to a randomly selected winner at each event! (Must be present to win.)
Download a Printable PDF HERE
October 8, All Day: SOCIAL MEDIA SUNDAY
Connect with your community and earn a chance to win by participating in our CM Week Treasure Hunt and engaging on CMSA socials!
October 9, 5:30pm Eastern: CASE MANAGERS & COCKTAILS
Join CMSA President, Dr. Colleen Morley on Monday evening for Case Managers & Cocktails as we celebrate YOU, the practice of case management and CMSA's birthday
October 10, 12:30pm Eastern: STRAIGHT TALK TUESDAY
WEBINAR: Who is the Client? The Ethics of Documentation (1 Hour CE RN, SW, CCM Ethics)
Presented by Lynn Muller, JD, RN, BA-HCM, CCM
October 11, 11:30am Eastern: WISDOM WEDNESDAY
TOWN HALL: Know Your Value
In collaboration with The Center for Case Management
October 12, 2pm Eastern: THOUGHTFUL THURSDAY
WEBINAR: DEI "CUBED"— Three Sides of the Equation (1 Hour CE RN, SW, CCM)
Presented by Melanie A. Prince, MSS, MSN, BSN, RN, NE-BC, CCM, FAAN, FCM
October 13, All Day: ReFRESH FRIDAY
Tune in any time throughout the day for a 30-Minute RECORDED WEBINAR on Mindfulness and Contemplative Neuroscience (.5 Hr CE CCM) with a bonus 10-minute Mindfulness Session at the end
October 14, 12pm Eastern: CASE MANAGERS & COFFEE
Join Dr. Colleen Morley and other case management leaders on Saturday for a LIVE NETWORKING SESSION with Moderated Breakout Rooms on current trends, ever-pressing issues and hot topics
Plus, three BONUS CE events during October!
Thursday, October 5, 12pm Eastern: WEBINAR
Collaboration between Case Managers and Physician Advisors – Essential to the Success of Health Care Organizations (1 Hour CE RN, SW, CCM)
Presented by Mary McLaughlin Davis, DNP, NEA-BC, ACNS-BC, CCM
Thursday, October 19, 9am Eastern: WEBINAR
Case Management Ethics 2024: Where Should Your Ethical Compass Point (1 Hour CE RN, SW, CCM Ethics)
Presented by Dr. Ellen Fink-Samnick, DBH, MSW, LCSW, ACSW, CCM, CCTP, CRP, FCM
Thursday, October 26, 1pm Eastern: WEBINAR
Assessing How IT Infrastructure Has Impacted CM Practices Over the Last Decade (1 Hour CE RN, CCM)
Panelists:  Garry Carneal, JD, MA; Jeff Frater, BSN, RN, CCM; Mary Beth Newman, MSN, RN, CMGT-BC, CCM, FCM; Rebecca Perez, MSN, RN, CCM, FCM; Pat Stricker, MEd, RN
Participate in our CM Week Treasure Hunt to be eligible for prizes! Play during CM Week to Win. Prizes will be awarded on Saturday, 10/14 at the end of our Virtual Networking Session.
History of National Case Management Week
Plans for National Case Management Week first began in 1998 as an effort to help move the Case Management industry forward. This was the first major initiative of the association since its merger with ICMA in 1995. The CMSA Board of Directors agreed to a Case Management Week celebration during the week of October 10, 1999, a date chosen in honor of the Association's establishment on October 10, 1990.
Later, it was decided to mark the second full week in October each year as National Case Management Week. As the idea quickly spread, other organizations also began to establish their own Case Management Week celebrations.
To strengthen the movement, collaborate with other organizations, and avoid confusion about the celebration, CMSA approached those organizations about unifying the annual event and celebrating it during the same week.
STATES
Georgia
Massachusetts
New Jersey
Ohio
CITIES
Chicago, IL