Recipients of the Award of Service Excellence
The recipient of the 2023 Award of Service Excellence
is Jenny Quigley-Stickney,
ACM-RN, CCM, MA, MHA, MSN, RN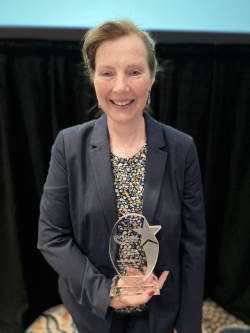 This year's award of service excellence recipient holds a masters in nursing, health administration and counseling. She's a natural problem solver and negotiator who has dedicated her more than 35-year career to obtaining goals, incorporating research, and developing evidence-based protocols and guidelines for patient centered care. For Jenny Quigley-Stickney, Case Management has been a lifelong passion.
Jenny has served as a professional case manager in acute care and rehabilitation settings for 35 years with a specialization in traumatic brain injury, spinal cord, and neurological diseases. She is currently a case manager in the vascular-surgical center at Cape Cod Healthcare where she facilitates safe navigation for the patient and family through all levels of transitions of care, promoting successful outcomes.
Jenny focuses on a comprehensive patient-centered approach while applying CMSA's standards of practice and guiding principles.
Jenny demonstrates service excellence to her patients, clients, and the case management community on a daily front-line basis. In the workplace, she provides training and mentorship to new case managers functioning as a role model to ensure quality, efficient outcomes. Jenny advocated at the Boston State House for legislation to promote safe transitions, Nurse Licensure Compact, and telehealth for the population she serves in the Cape Cod Healthcare system.
Through her volunteerism in both the national CMSA and the Case Management Society of New England she has served in leadership mentorship roles for new case managers to advance the professional practice of case management into the future.
From 2018 through 2021, Jenny served as chair of the CMSA Public Policy committee from where she raised awareness on important public policy topics through educational webinars and poster presentations on NLC, opioid legislation, workplace violence prevention legislation, telehealth, and behavioral health legislation.
In 2022, Jenny and fellow public policy committee members of the Case Management Society of New England received the chapter's award of service excellence in recognition of 10 years of exceptional advocacy in public policy.
Jenny is an active member of the Case Management Society of New England and has served as President, Vice President, Chair of Public Policy, public policy liaison, and director at large. She currently serves as director on the CMSA National Board of Directors and is the incoming Treasurer.  She has been actively involved in the CMSA editorial board, sponsorship committee, strategic planning committee, finance committee and many more.
When asked to describe Jenny, Patricia Noonan shared "Jenny is a strong supporter of professional case management's role in healthcare. She has dedicated 35 years of her career in case management working in acute care and rehabilitation setting serving as a role model exemplifying the definition of a professional case manager."
Jenny is creative, innovative, and thought-provoking. She enjoys the outdoors and the beauty that Cape Cod offers. She was a professional dancer and is a lover of art. She feels this gives her a balanced perspective between art and science. Her diverse family allows her to share and learn about a wide range of food, holidays, and cultural practices.
Please join us in congratulating the 2023 Award of Service Excellence recipient, Jenny Quigley-Stickney.
2019 - Cheryl A. Acres
2017 - Patricia Noonan
2016 - Ellen Fink- Samnick
2015 - Janet Coulter
2014- Deborah Gutteridge
2013- Sheila K. McGlone
2012 – Barbara Mackey-Zeigler
2011 – Carol A. Gleason
2010 – Derenda Lovelace
2009 – Betty Overbey
2008 – Elaine Miller
2007 – Pam Davis
2006 – Bobbi Rosenkranz
2004 – Laura Deming
2003 – Lizbeth Zemke
2002 – Jean O'Leary